Don't have to go far to the seaside, taste fresh seafood at "The Rich Cafe" well-known restaurant with "Mahachai Talay Sod" the famous market in Salaya. Must try menu! Big oyster from Surat thani
#Wongnai recommended
• Freshness seafood from "Mahachai Talay Sod" deliver almost everyday.
• Variety selection over 300menus of delicious traditional Thai flavours.
• Don't miss! "Creamy Tom Yum River Prawn" excellent spicy flavours, full of seasoning with extra jumbo size prawns.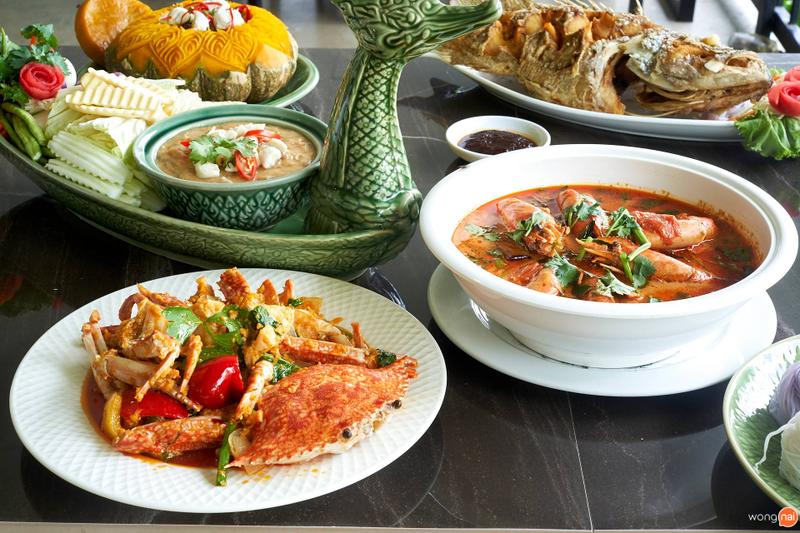 Variety of scrumptious menus.
The delicious dishes with reasonable price can fulfil your heart from stressful environment. We often visit Salaya area. There are many famous restaurants around here, but this is the first time to try fresh seafood at "The Rich Cafe".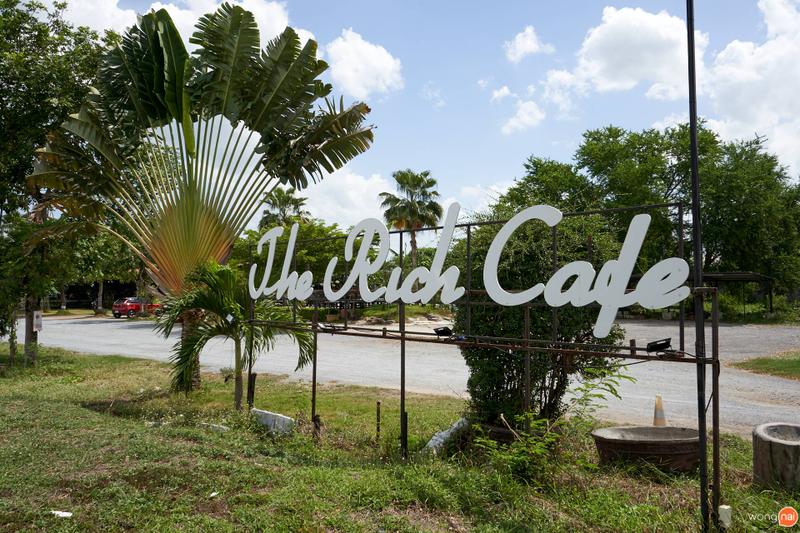 Outstanding restaurant sign
It's named Cafe but feel like small restaurant. There are karaoke rooms, VIP rooms, grand hall and outdoor zone which normally has live music show. However, during pandemic of Covid-19 only grand hall zone is available for service. According to social distancing measures dining tables are setted up with distance. In the evening we can chill out in outdoor zone feel cool breeze.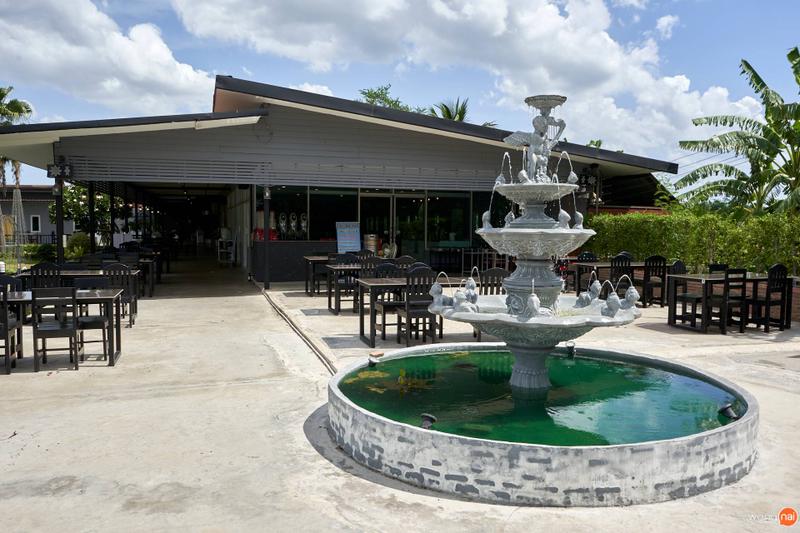 Pleasant environment
efore becoming
"The Rich"
seafood restaurant, the shop has its own wholesale seafood business resulting in cheaper ingredients price and decent price menus which is from "Mahachai Talay Sod". This shop has been open over 10 years at Salaya market! So, all seafood ingredients are deliver straight from the sea. For example
"Savory Big Oyster
"
(270baht) guaranteed freshness from Surat Thani and extra large size, accompany with Maepranom Thai Chilli Paste and appetizing seafood sauce with an aromatic flavour from fresh lemon plus sprinkle fried onion.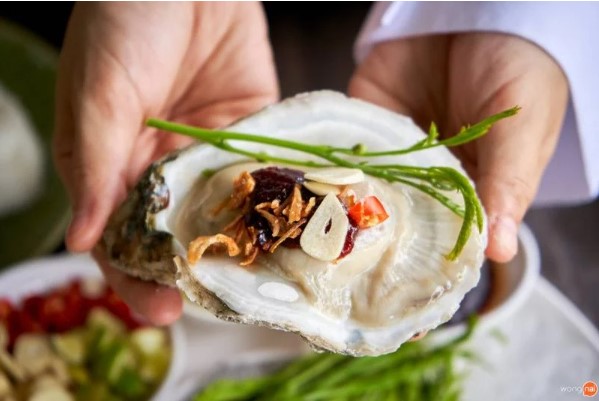 Super extra large Oyster
"Deep Fried Grouper with Chilli Gravy Sauce"
(280 baht) extra large size fried fish and special tasty sauce from Maepranom Sweet Chilli Sauce, added with fresh red chillies and aromatic kaffir lime leaves.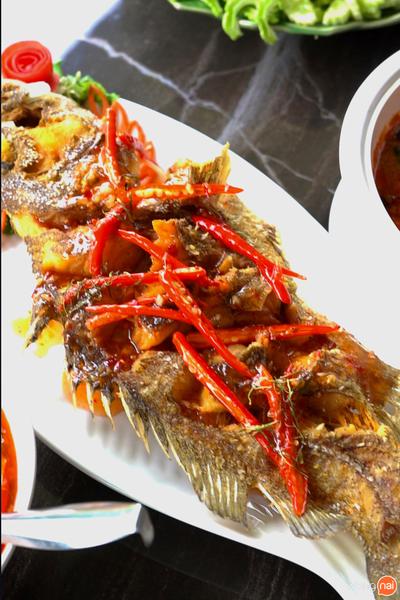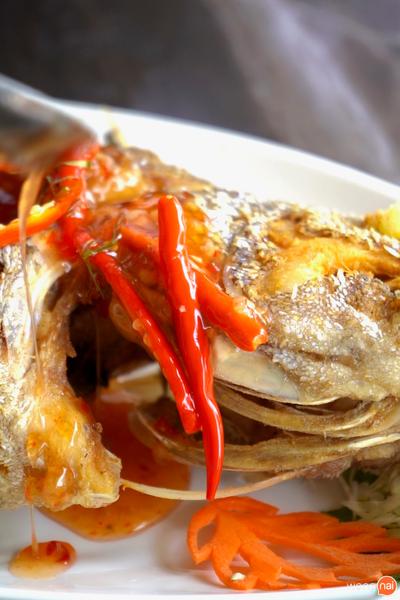 Light meal recommended
"Crab in coconut milk – Lhon Pu"
(250 THB) served in beautiful boat-shaped bowl. The Chef carefully stirred mixture which takes at least 1 hour to get smooth texture and delicious stew. Served with local fresh vegetables and juicy crab meat.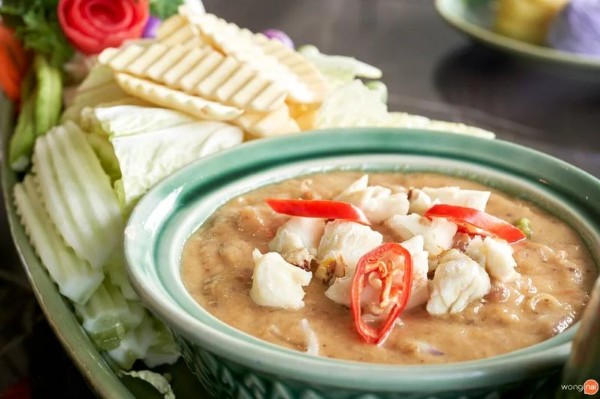 Light meal with juicy crab
Another highly recommended menu
"Crab Curry in Pumpkin – Kaeng Kua Pu"
(380baht) using lump crab meat over 100grams, cooked with fresh coconut milk, served in beautifully carved pumpkin handcraft.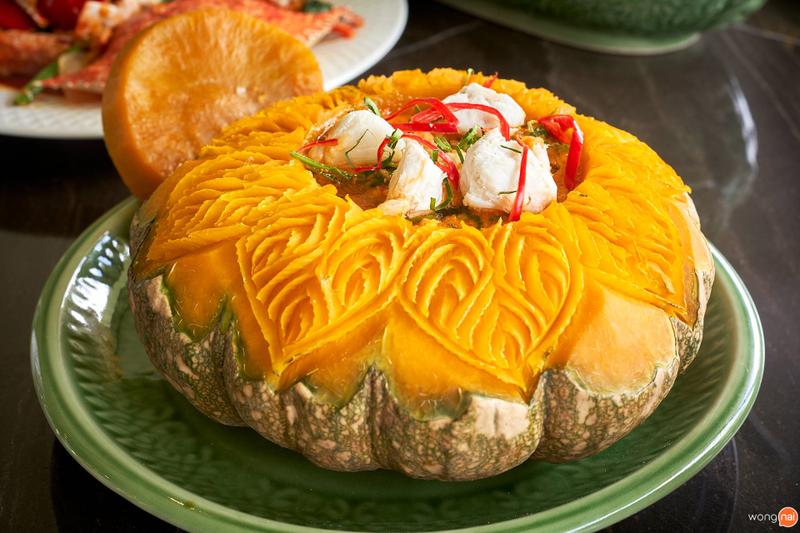 Beautifully handcrafted pumpkin
"Rice Noodles with Crab Curry" also using lump crab meat. Rice noodles are made with natural colours from pumpkin, anchan flowers, roselle and pandan. This menu is also available at Central Salaya, Ratchapruek Food Villa and Salaya Fresh Market which is very convenient to buy.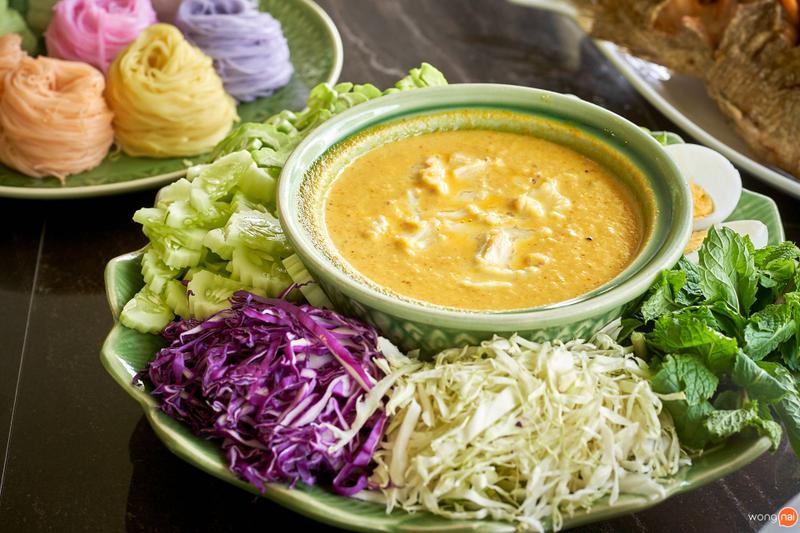 Served with variety of fresh vegetable
Must try dish is "Creamy Tom Yum River Prawn"(200baht) which has Maepranom Chilli in oil for Tum Yum as secret recipe to enhance spicy flavour and savory of tom yum soup. Appertizing dish with great seasoning come with special extra large size river prawns.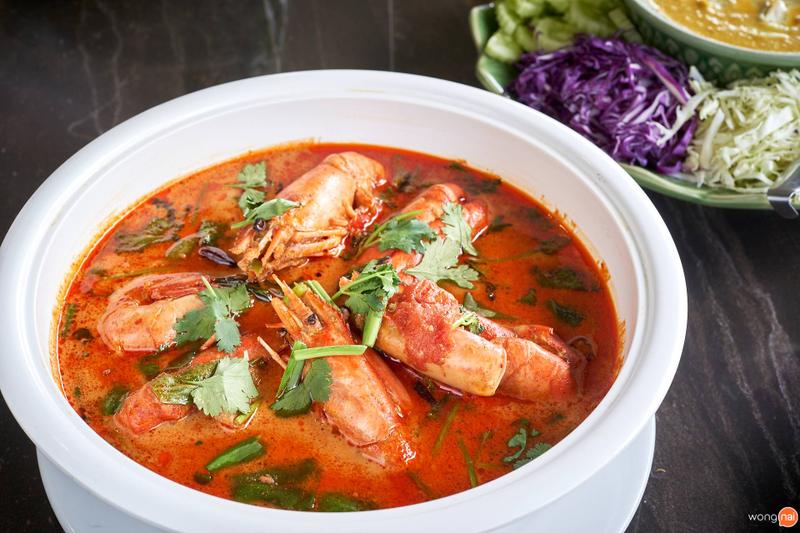 Creamy Tom Yum River Prawn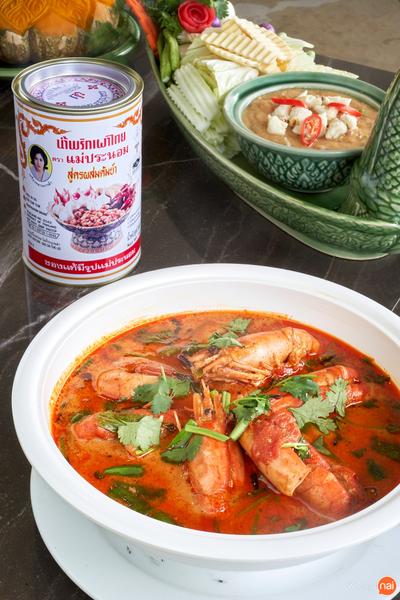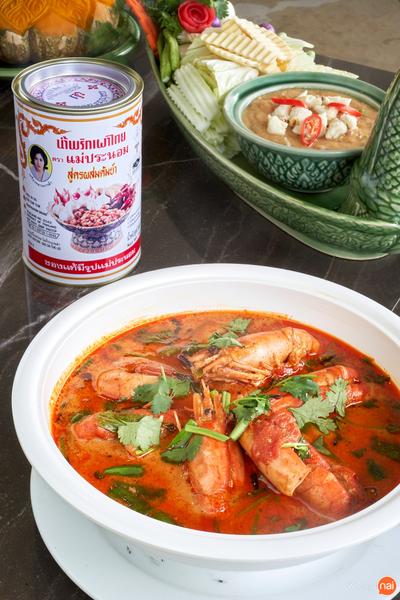 Another large portion for family dining "Stirred -Fried Blue Crab with Curry Powder"(250baht) made with 3pieces of blue crab together 1kg. Using Maepranom Thai seasoning chilli oil to add colour and flavour dish. This is an excellent choice to eat with steamed rice.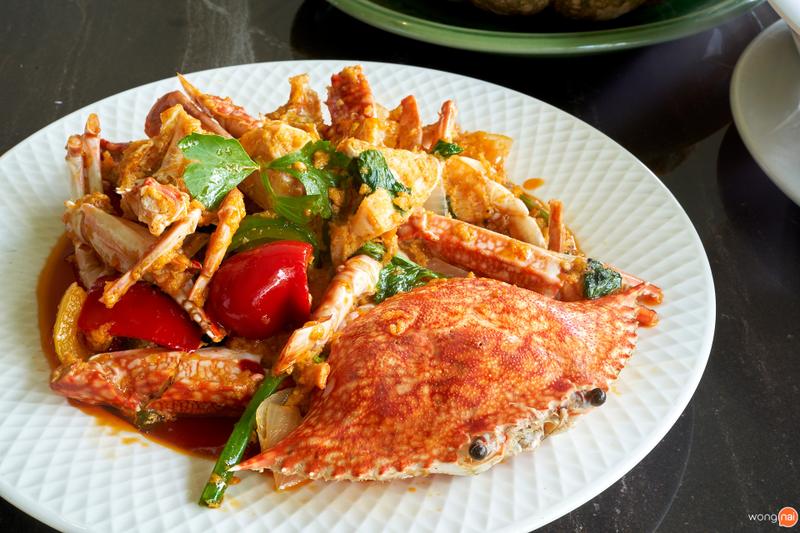 Stirred -Fried Blue Crab with Curry Powder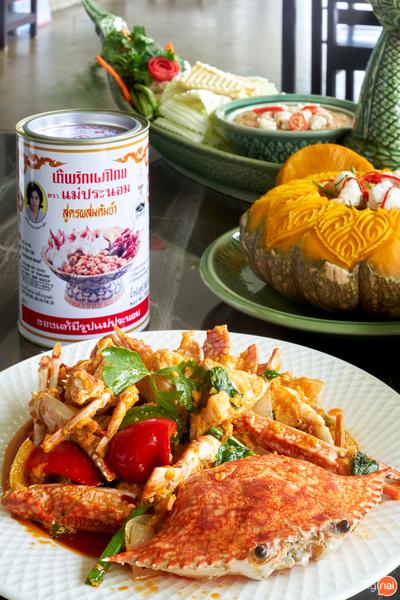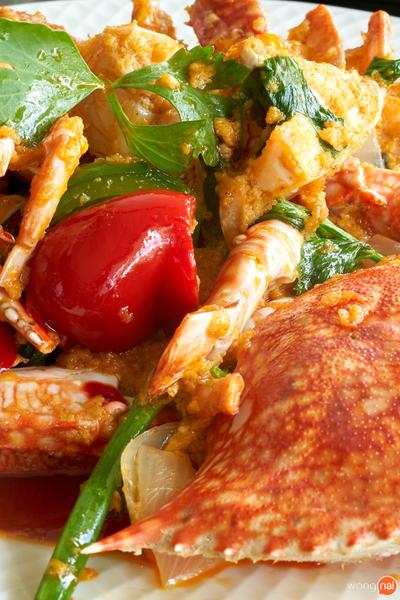 There are more than 300 seasonal menus selection depending on fresh ingredients. Some seasons also have Lobster we guarantee all menus are authentic Thai cuisine with fresh ingredients. During COVID-19, operating time from 9.00-20.00 hrs. Further information please follow restaurant Fanpage.
Recommended Menu
Creamy Tom Yum River Prawn, Crab in coconut milk, Savory Big Oyster.